The cryptocurrency market is in turmoil, with Vietnamese investors continuing to pour out money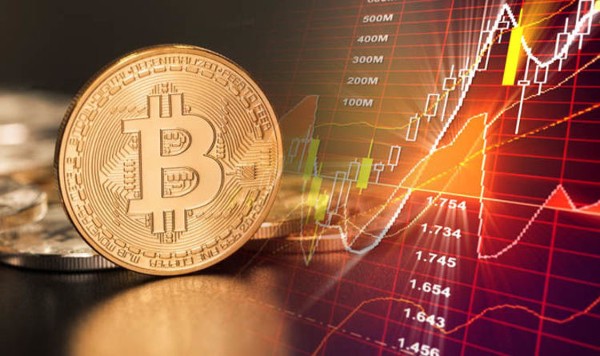 The price of Bitcoin and many other cryptocurrencies has collapsed recently. However, investors in Vietnam see this as a good buying opportunity.
After more than a month, the above price has been maintained $ 60,000/ dong, Bitcoin prices have plummeted and are showing no signs of recovery. According to CoinMarketCap, the price of the world's leading cryptocurrency has fallen on 55,460 USD/ dong on November 23, the lowest value in the last 30 days.
Compared to the near peak 69,000 won USD Bitcoin price, founded on November 10th, plummeted more than 16%, pulling market capitalization close 1,000 yen Billion USD. However, since this morning the price of Bitcoin has risen to 57,560 USD/Copper. In general, the cryptocurrency market is going through a period of major shocks.
In addition to Bitcoin, the top 10 largest cryptocurrencies in the world have also fallen. Ethereum is currently trading around the threshold 4,357 USD/Copper; Binance coin 591 USD/Copper.
The total crypto market cap evaporates 500 Billion USD in just a few days. Photo: CoinMarketCap.
Bad news covered
Notably, 2 animal coin projects, Dogecoin and Shiba Inu Coin, were tossed out of the top 10 after a long period of slipping, giving way to Avalanche – a coin that has grown 45.52% over the past 7 days. .
As for the cause, similar to the uptrend, Bitcoin's current price is the result of a series of bad news.
According to financial expert Craig Erlam (based in London) the loss of support is 58,000 won USD/ dong pulled the price of Bitcoin down. However, compared to the dynamics of Bitcoin over the past few months, this correction is not significant.
However, the expert believes that if you don't get the mold back quickly 60,000 won USD/ dong, whereby the possibility is not excluded that Bitcoin will fall further and even evaporate 20% of its value.
"Most people think that Bitcoin has not yet peaked and will soon break new records. But as we've seen in the past, corrections can be very strong and cause many investors to lose," said Erlam.
As we've seen in the past, corrections can be very severe and cause many investors to lose money.
Financial Specialist Craig Erlam (based in London)
Hayden hughes CEO at Alpha Impact – said the passage of a U.S. government bill on infrastructure spending, including content taxation and tightened regulation of the cryptocurrency market, had a negative impact on investor sentiment.
On the other hand, when speaking to us, financial expert Edward Moya from consulting firm Oanda (based in the US) believes that the Chinese government's strong crackdown on cryptocurrencies is accompanied by a recovery in the USD and the risk that the US Federal Reserve (FED) will hike rates soon could also be a factor causing the price of Bitcoin to fall.
Another factor to mention is the drop in heat from Bitcoin ETFs. While new ETFs continue to hit the market, that's not enough of an incentive for new investors, according to Moya.
'Ask' money from friends and family to be invested
Without spending time researching the project or having any technical analysis skills, Trong Kim – a cryptocurrency investor based in Hanoi – is still making a steady 20-25% profit despite the downward trend in the market. Instead of fear, he sees it as a rare opportunity to make a profit.
"I always reserve around 20% of my investment, converted into USDT. This money is used to go to the market every time the market falls. The more cryptocurrency prices fall, the more I buy. When the price recovers, I'll place a sell order to eat the difference, "he said.
Currently, Trong Kim spends 70% of its investment portfolio on top coins and platform coins such as AVAX (Avalanche), DOT (Polkadot), FTM (Fantom) … long-term development and the interest of large organizations.
The remaining 30% of the money is in the risky category, which is exchanged by Mr Kim in emerging projects, by knowledgeable people like RACA, BAT …).
"I don't know much and I don't have to learn anything about these projects. Just know that they are joined by some notable people in the advertising world. If properly developed, I can make x2, x3 investments in a month. Loss is okay, that's the risk I have to take, "he continued.
Many investors believe that the Bitcoin price will skyrocket by the end of the year. Photo: Bybt.
Although the investment loses 20%, Tung Lam – another investor in Binh Thuan – still gives approx 500 USD to improve the directory. According to the plan, he will keep the newly bought coins until the market recovers, then sell them to enjoy the difference and continue to use the profits for reinvestment.
Because of his confidence in the future of the market, Lam raised an additional VND 50 million from family and friends.
"I invest my relatives' money every 3 months and withdraw it every 3 months. If I lose, I will return 100% of the original investment to everyone. If I make a profit I get 50% of the total profit, "said Lam.
"This is also a passive way of making money. To avoid risk, I focus on safe coin portfolios like Solana, Binance Coin, NEAR. These are all my favorite coins that I have been watching for a long time. Hopefully after 3 months I can earn 30 million dong, "he continued.
New money is constantly flowing into the market
In Vietnam, cryptocurrency continues to become an investment channel attracting many players, especially F0s. Many new investors believe this is a good time to get into the market.
Still confused about cryptocurrencies, Tuan Khai – an office worker in Hanoi – decided to spend VND 10 million to practice investing on the advice of friends. "That is the money that I withdraw from the securities. They told me the price was "very fragrant" it is not too late to come in. Well, listen, why don't you try it, "he said.
With little capital he only invests in exchange tokens such as Binance Coin and FTX tokens.
After downloading the app, making a deposit, and trading for 2 days, he said that buying and selling cryptocurrencies was "not very difficult," even easier than investing in stocks. Unlike the mainstream investment channel, however, this investor was impatient when the coin price fluctuated sharply every hour.
"I was warned to stay away from futures and lottery coins like Shiba Inu, just the 'Hold to Die' portfolio. Although the profit is around 8%, my friends said that thanks to the good starting price (purchase price) I will most likely make a profit of 1.5-2 times by the end of this year. In that case, I will definitely invest more, "said Khai.
The number of coin wallet addresses on the market continues to grow. Photo: glass knot.
In groups, forums for sharing crypto investing experiences, it's not hard for people to see posts asking for advice with content like "where to start", "when you have 20 million, buy it". What coin ".
As reported by CoinShares, the crypto market has pumped more in the past week 154 Million dollars from investors. In particular, the newly launched ETFs in the US recorded more than 90% of the cash flow in Bitcoin.
According to Glassnode data, the number of wallet addresses with non-zero balances continues to grow by over 10% despite the recent decline in Bitcoin, reaching a new record of 38.65 million addresses.
Mink Khanh
ZING