With the rise of Metaverse- a new period in the future, as well as the era of decentralized gaming, Heroes TD ($HTD) is established where games are owned by everyone, allowing players to bring their favorite characters across several games.
What is Heroes TD ($HTD)?
Heroes TD is a collectible tower defense strategy game with an entirely unique gameplay mechanic. To win, you can collect and build your deck. You can play the game and earn money at the same time. Players in Heroes TD can join a community to play with others. Users can also make one-of-a-kind NFT content and exchange it with other players to earn real money.
The game was developed by the CG Studio team, consisting of outstanding and experienced members. Founded in 2013, the team has been working on developing mobile games and blockchain technology. After developing casual games and world popular games, they shifted their focus to online strategy games in 2015, publishing titles such as GunGun Online, Chess TD, and others. These are mid-core strategy games with appealing gameplay that have received over 6 million downloads on mobile marketplaces and are continuously growing.
Outstanding Features
What is the project trying to achieve?
Their objective is to create games that anybody can play and enjoy, share with their friends, and make money in exchange for their time investment. They envision a future in which all games are linked into a Metaverse and players can bring their favorite characters from other games to continue exploring the gaming universe.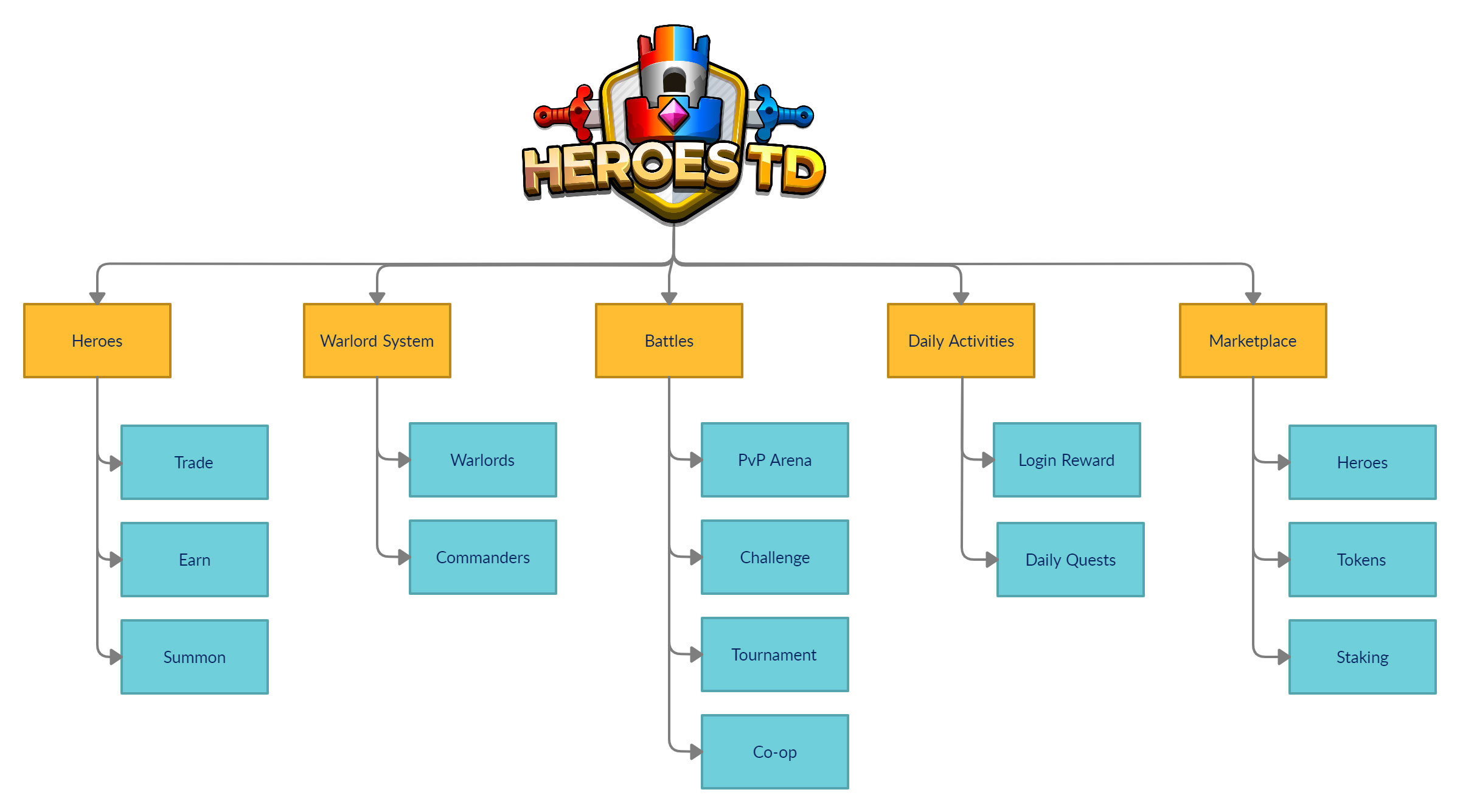 What is the unique selling point?
Gameplay
In Heroes TD, each player is given a starter deck of 5 Basic Heroes. Players can use this starter deck to participate in PvP Arena and earn CGC. To defend his base, the player will have to spend energy to summon a hero. Each time the player presses the summon button, an amount of energy will be spent, and a random hero from his deck will be summoned to his field.
When summoned, each hero can carry up to three items and three runes. These Items and Runes will be unable to be removed or modified for the rest of their life. Each Item and Rune has a unique set of stat boosts and effects. Some items are rated higher than others.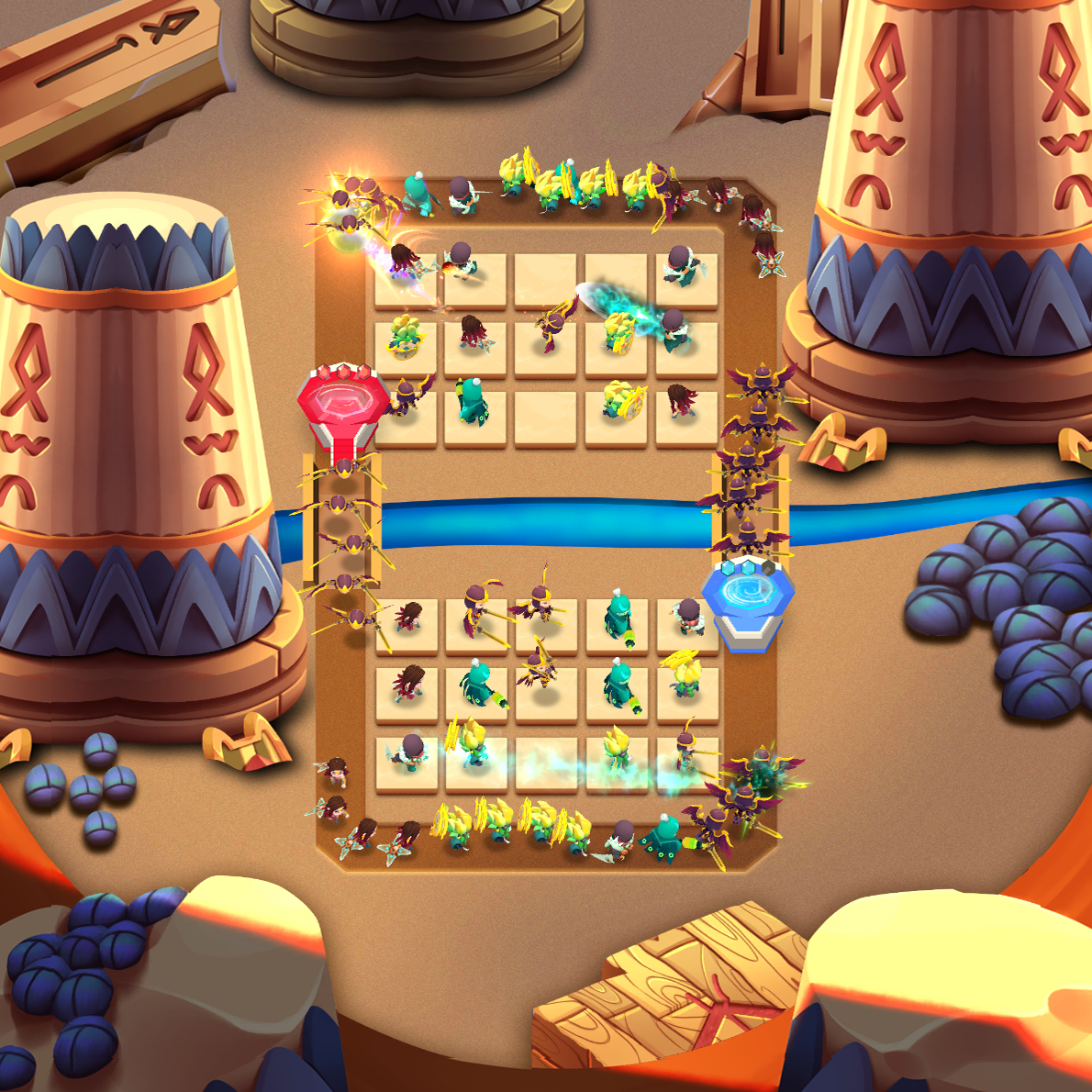 In-game Heroes
Heroes are the game's major playable assets. They are also each player's major battle power. Each Hero is born with a unique set of characteristics that influence his powers. The Hero's stats will vary depending on the combo.
Here are the core attributes of a Hero: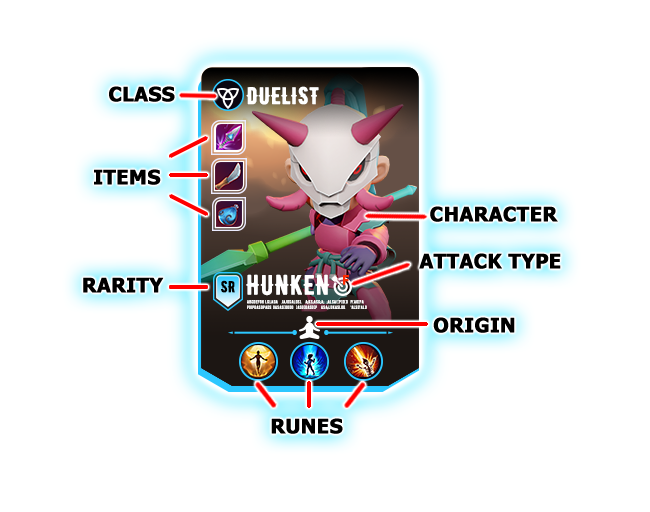 Here are some visuals of in-game heroes, the team is still working hard to create more heroes and we will update right after we have the official information. Please stay updated with us!
Warlord & Commander System
Players can become Warlords in the Warlord & Commander System by putting their heroes into separate decks in different sub-accounts and recruiting Commanders to put them into battle while paying the Commanders a price.
As a Warlord, you can create numerous sub-accounts with sub-wallets, begin transferring extra decks into those sub-accounts, and search for Commander. You will have complete control over the sub-accounts, including all CGC, HTD, and Hero income.
Commanders can only play the game if they have access to login credentials. They will be unable to do Marketplace transfers or withdraw CGC or HTD from the sub-accounts. This solution will assist you in preventing fraudulent transactions during the Commander hiring process. The Commander payment can only be done directly from the Warlord to your wallet, in the form of your choosing and agreements with the Warlord.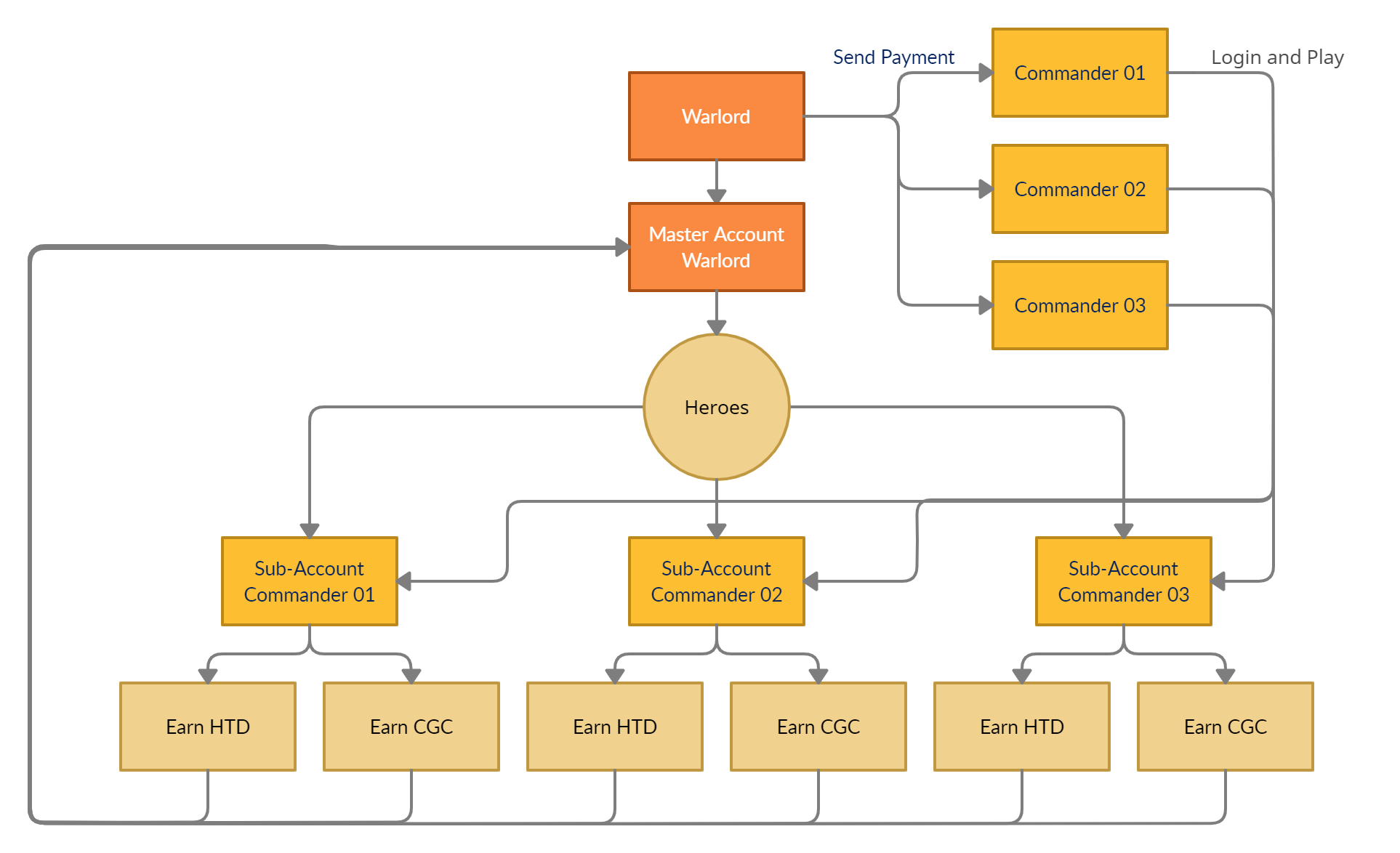 Free to Play
A new player can begin the game by selecting 5 Basic NFT Heroes. With these non-NFT Heroes, he can begin exploring the world of Heroes TD, taking part in early PvP matches, and earning CGC.
Players can then extract these CGC to their wallets, sell them on the Marketplace, or even trade with their friends using Blockchain technology.
Roadmap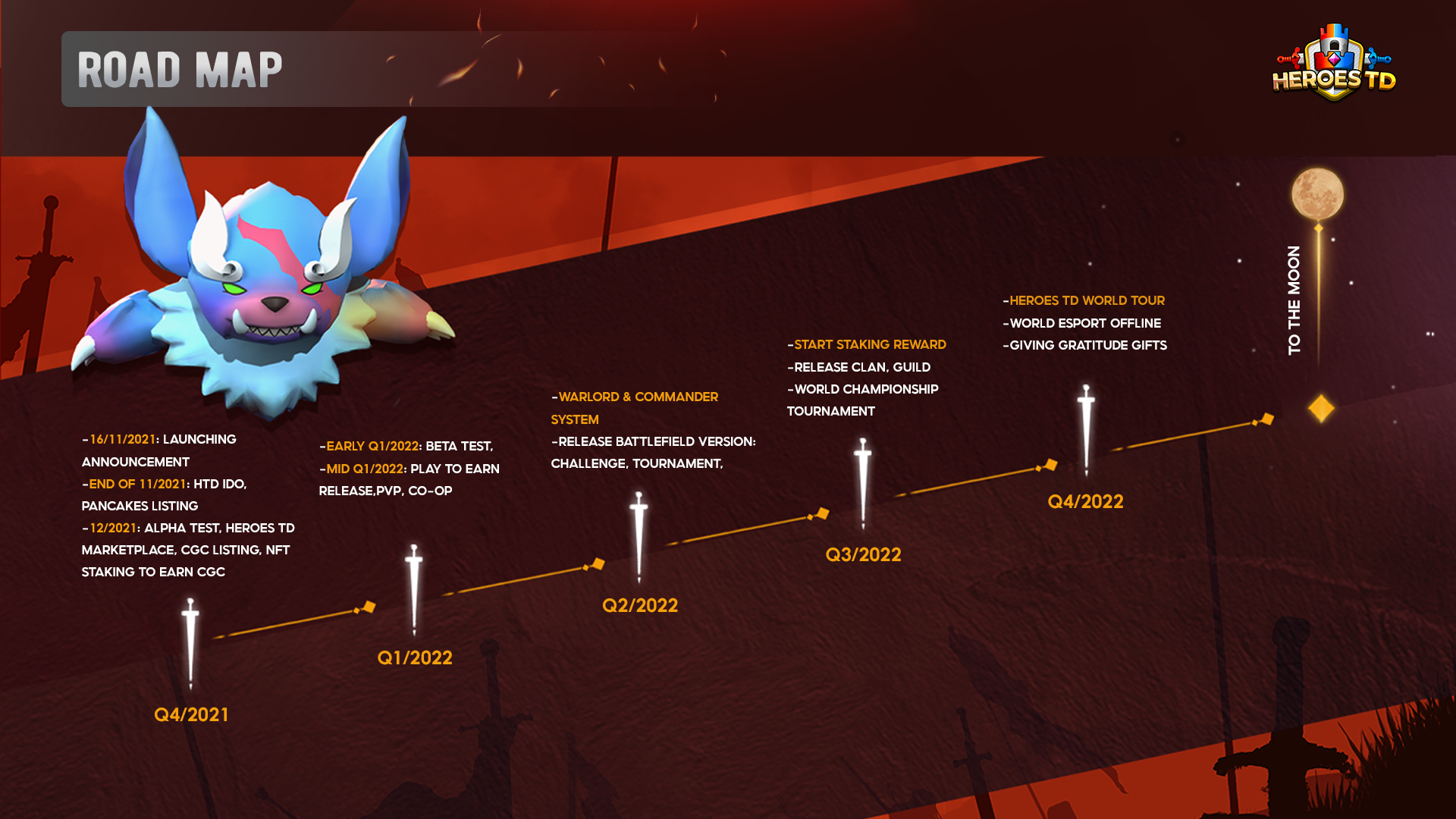 Details information about the roadmap
Q4/2021
30-Oct-21
05-Nov-21
16-Nov-21
Heroes TD Launching Events
IDO Whitelist
18-Nov-21
Listing HTD on Coinmarketcap, Coingecko
28-Nov-21
29-Nov-21
Listing HTD on Pancakeswap
30-Nov-21
Open DApp on Heroestd.io.
Start Yield Farming.
03-Dec-21
04-Dec-21
Open Marketplace
Deploy CGC
Start Farming CGC
Listing CGC on Pancakeswap
Open Summon Hero
05-Dec-21
Technical Data
Key Metrics
Token Name: Heroes TD
Ticker: $HTD
Blockchain: TBA
Token Standard: TBA
Contract: TBA
Token Type: Utility
Total Supply: 468,000,000
Circulating Supply: TBA
Token Allocation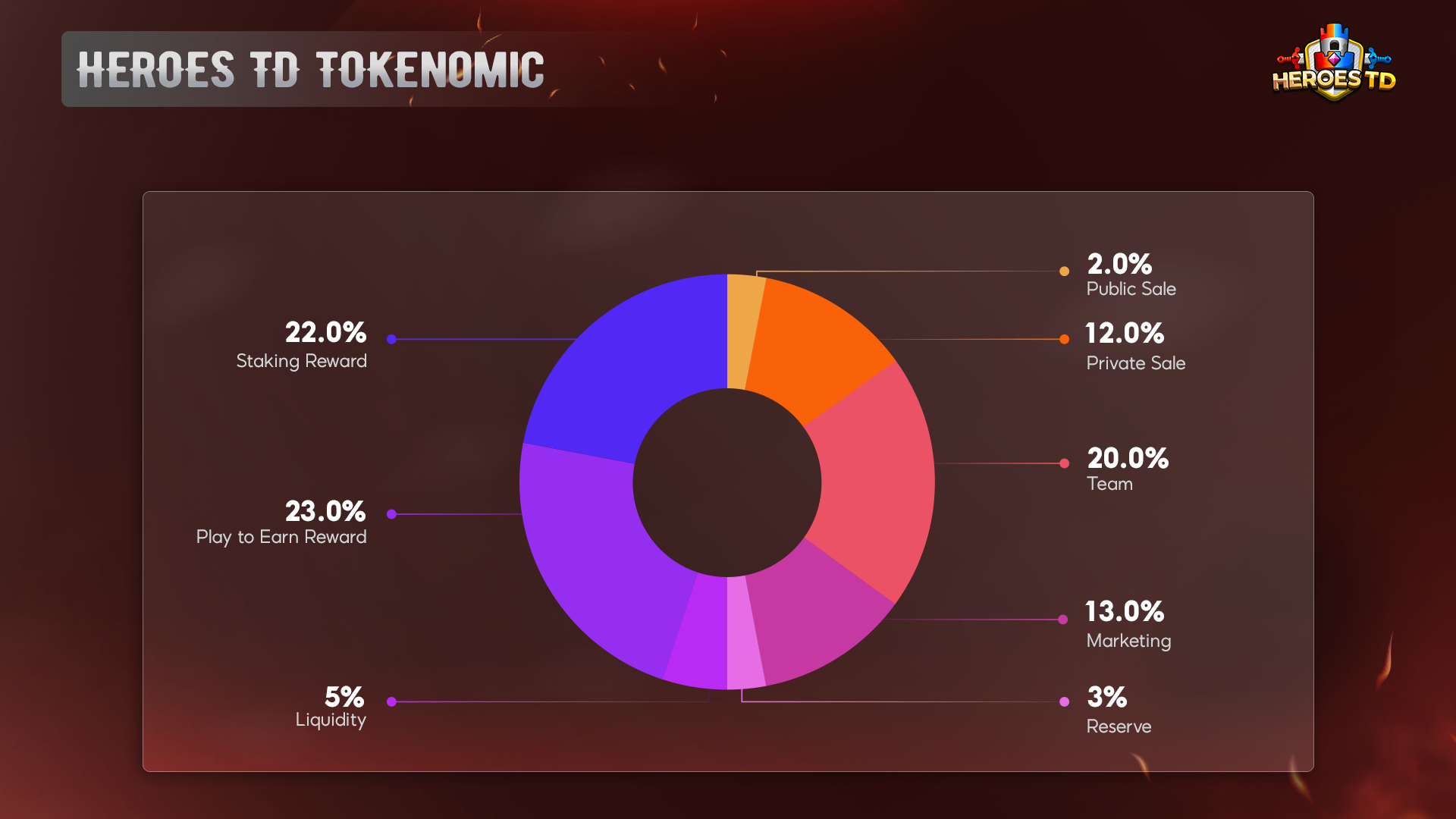 Token Sale
We will update right after we have official information
Token Release Schedule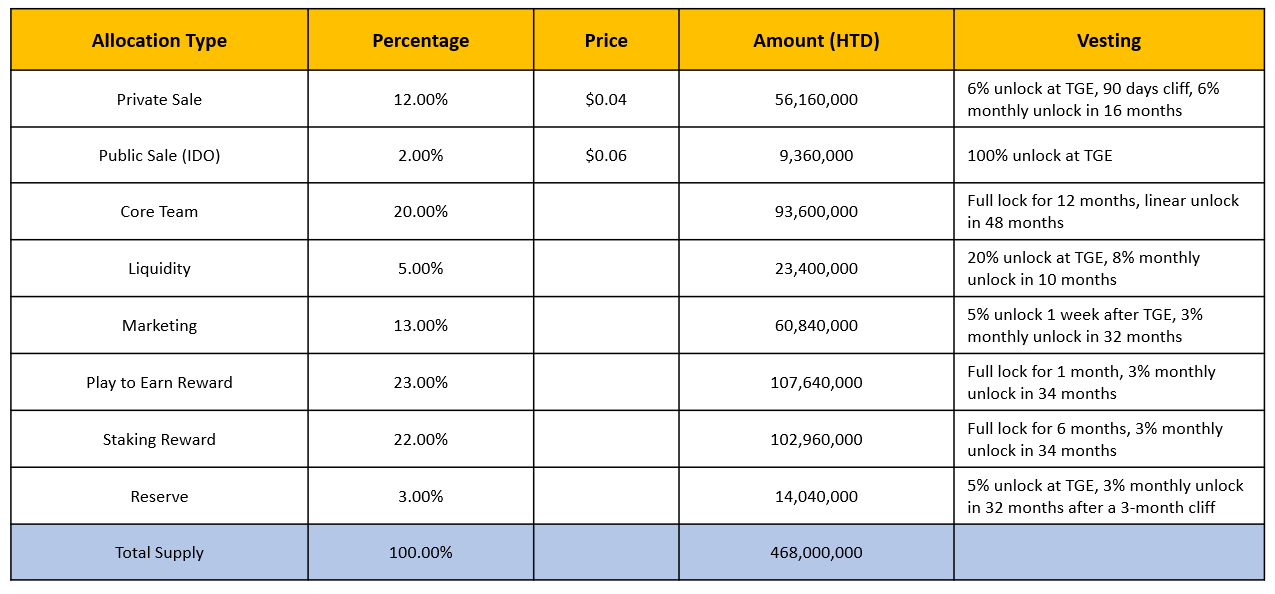 Token Use Case
HTD is a specific DeFi token for the Heroes TD video game. HTD tokens can be used to purchase assets on the Marketplace and participate in-game activities. HTD offers one unique feature that makes it a must-have for the game: summoning new Heroes.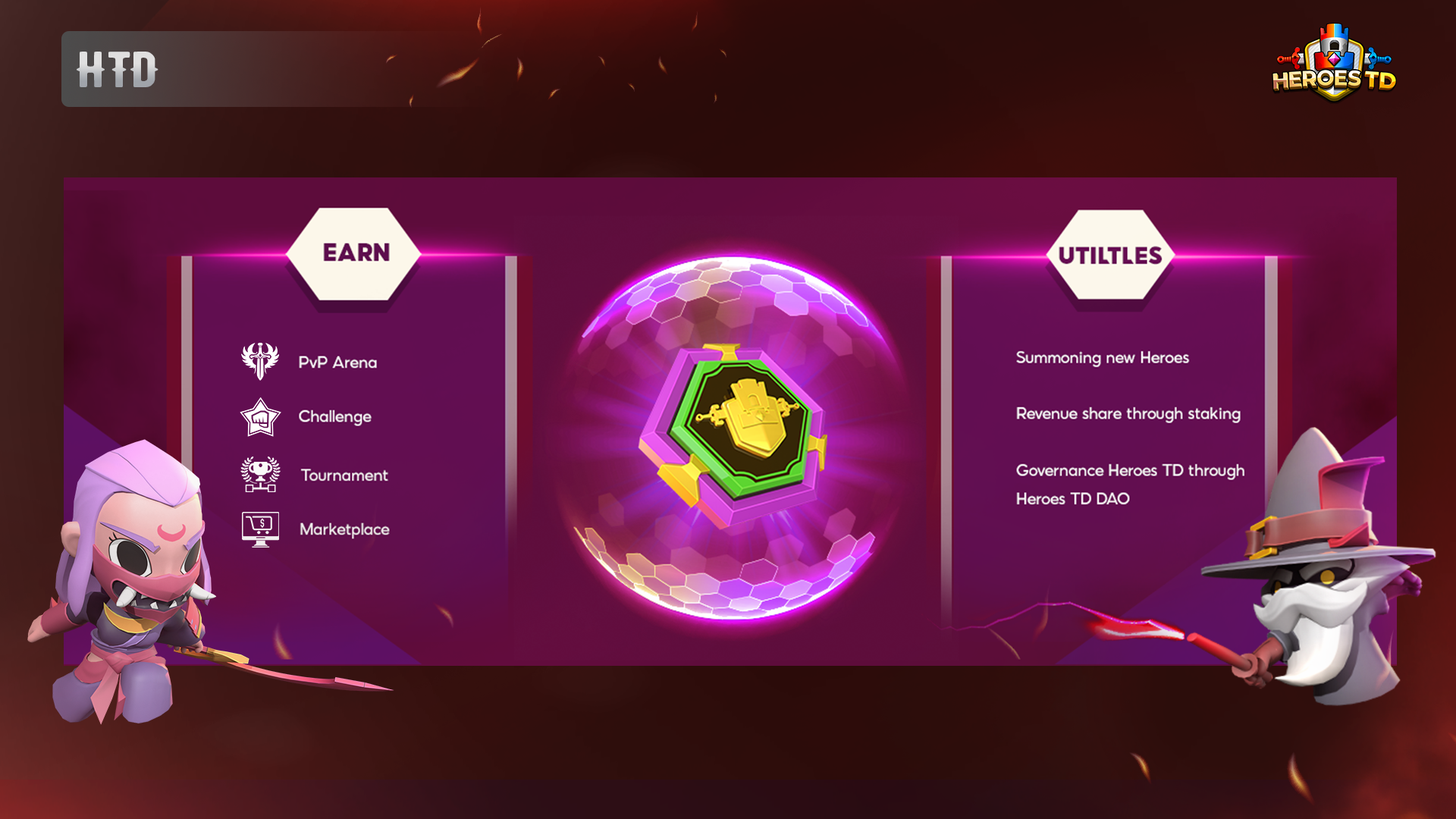 CGC is another token to be used for game activities and on Marketplace. Heroes TD will not sell $CGC directly nor provide liquidity for $CGC.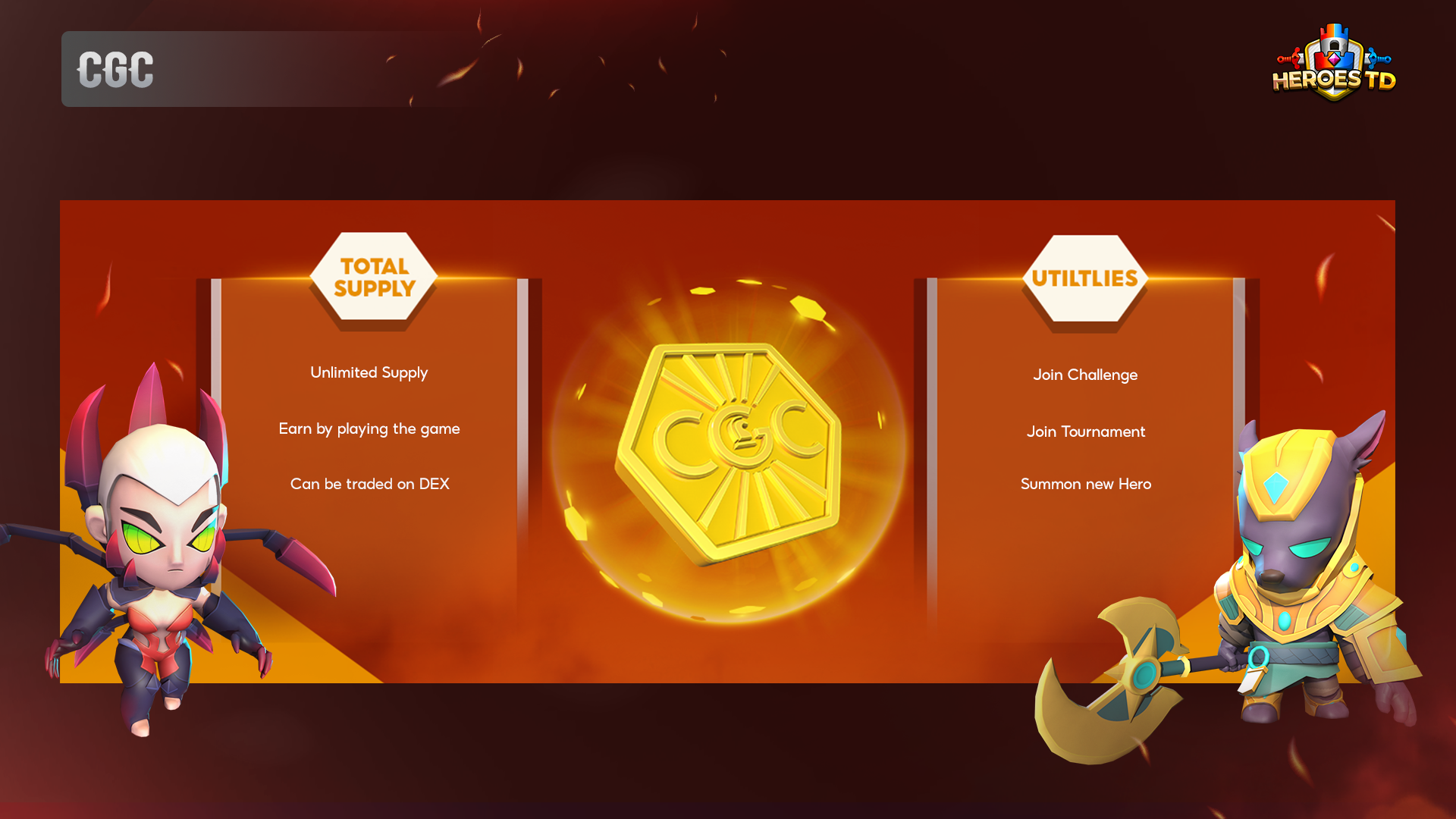 The main tokens utilized for all in-game activities and the marketplaces are HTD and CGC. HTD and CGC can be used by players to enhance their decks, compete in high-level games, and become the best player.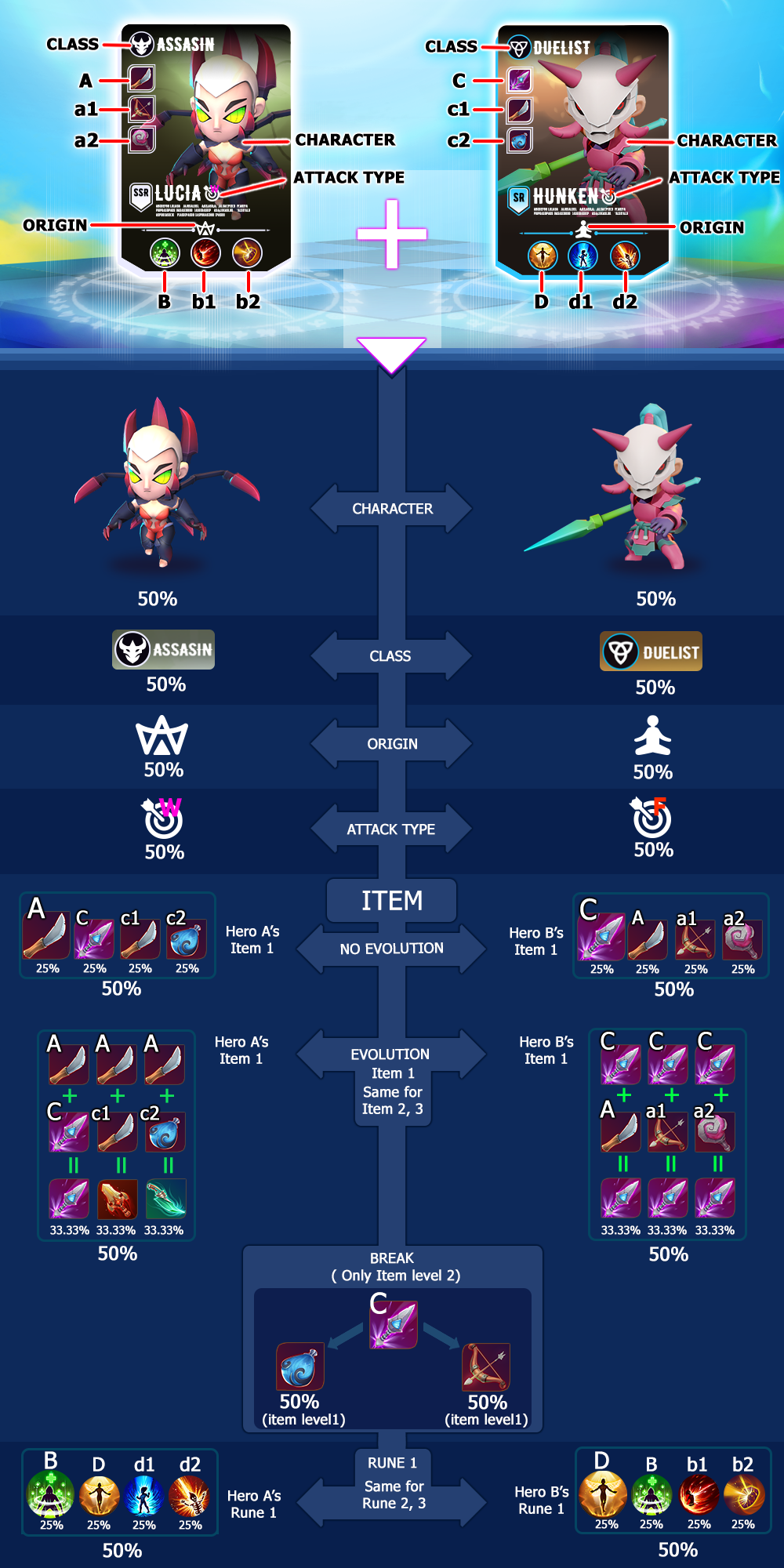 How to own a token?
Earn HTD inside the game by:
Winning PvP Leaderboard
Trading in Marketplace
Farming CGC inside the game by:
PvP Arena
Co-op
Challenges
Tournaments
Various tasks such as daily events, missions, etc.
Players can participate in Daily Quests events to complete missions, and receive CGC as rewards.
Quest Name
Missions
Rewards
Login and Play
Login into the Game
Win 5 PvP Arena
Play 5 Co-op
Win 10 Campaign
100 CGC
Be a Challenger
Win 2 Challenge matches
Win 1 Tournament matches
150 CGC
The Challenger Destroyer
Win 5 Challenge matches
Win 3 Tournament matches
200 CGC
Markets and Community
Treasury receives inflows from 2 ways:
4.68% of all Heroes NFT marketplace transactions.
The HTD portion of the summoning fee.
The Treasury then will use these HTD to reward players who achieve high ranking in the Leaderboard on each season.
Users with HTD can participate in voting for in-game features and design changes.
We will update more information on this project as soon as possible
Backers
Team
CG Studio team consists of a board of outstanding and experienced members, who have been working in developing mobile games and Blockchain technology for a long time. The team was founded in 2013 as VGames, developed many games for cross platforms, i.e: Android, iOS, Winphone, Html5,…
Partners
Alternative Project
Plant vs. Undead
Plant vs. Undead is designed to be a game for everyone, as no prior knowledge of cryptocurrencies or NFTs is required to participate. PVU is presenting the world of NFTs, blockchain, and cryptocurrencies to a general audience in a fun and engaging way, building on the popularity of prior competitive mobile games titled Plants versus Zombies. While the NFT market is swamped with pet-themed NFT games, PVU takes on a novel concept that has already acquired a big and growing fanbase.
There is currently only one mode in the game, which is the farm mode. The Farm mode is present to allow players to benefit from unused assets. Each player receives five plant spaces and one mother tree slot for free, and the rationale for nurturing those plants is to make them stronger when used in the fight against the undead.
Castle Defense
Castle Defense is a free-to-play concept game based on the classic all-time 'tower defense' and the Area of Effect turn-based tournament esports. Users can play without downloading on any platform, such as a mobile phone, tablet, or PC, and can earn and increase their in-game things as digital assets on NFT (Non-Fungible Token). Castle Defense is a blockchain game platform powered by the POC, Pocket Arena Token, an ERC 20 token that runs on the Ethereum network.
NFT Castle is an excellent illustration of the type of mutually beneficial ecology that crypto gaming may generate. The NFT Castle economics is linked to the value of in-game NFT castles, which can be used to claim territory and improve your ability to generate more digital assets. #eSports digital assets are weapons and items that can assist you in winning the game and gaining more assets from other players by attacking them. NFT Castles are no different. The more you use your fortress, the more powerful it grows. The more powerful your castle, the more likely you are to win the war and increase your assets.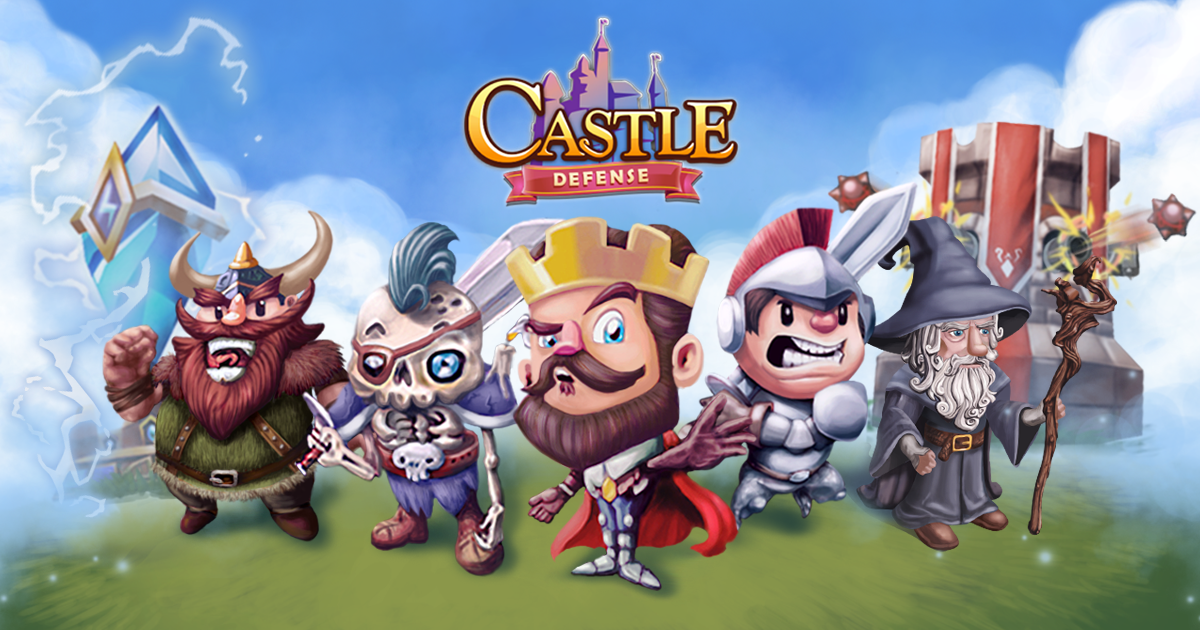 With a similar concept of gaming, these are 2 projects which I personally think would be strong competitors for Heroes TD.
Conclusion
Overall, the information that I have collected is all 1st Phase of the project, so we will have to wait for more detailed information to have a better overview of Heroes TD. We will try to update the information as soon as for all our investors.
Find more information about the project:
Website: https://www.heroestd.io/
Whitepaper: https://docs.heroestd.io/
Twitter: https://twitter.com/heroes_td
Telegram: https://t.me/Heroes_TD
Facebook: https://www.facebook.com/Heroestd
Discord: https://discord.com/invite/wzYkGAfpxS
If you have any questions, comments, suggestions, or ideas about the project, please email [email protected]
KAZ
Coincu Ventures