MekaVerse is one of the most successful NFT launches of recent times, generating over $ 60 million in revenue in 24 hours last week. But the initial introduction was controversial and potential fraud allegations have even surfaced since then.
MekaVerse is an Ethereum-based collection of 8,888 randomly generated avatars and started on July 10th. Investors who buy NFTs don't know exactly which images they bought. It's like an IOU (proof of loan): Owners see a placeholder image in front of a collection start planned for later days. Even the secondary market buyers do not know what they are getting.
Every picture on OpenSea now looks the same and secondary prices are exploding because users risk a bundle of trading cards to get rare, exceptionally valuable pictures. Before launch, the unreleased NFT MekaVerse had an average retail price of over 7.1 ETH, or around $ 25,000 at this point.
Of course, buyers do not know which NFT they are buying. But since its inception, a number of allegations have surfaced on social media suggesting that buyers had early access to metadata, or information describing the properties in each NFT image. This data is used to purchase rare NFTs that do not allow previews.
Twitter user MOLOTOV accusations MekaVerse launch event is "cheating". He points to public data from OpenSea and other sources showing that one of the project's developers, Wyb0 from Miinded Studio, "played around" buying rare NFTs at a bargain price before they were even revealed.
Source: MOLOTOV
Another user too criticize This:
"The collapse of MekaVerse is not only due to FOMO and weak investors giving up early. This is actual fraud. Insiders have gained access to hidden metadata and adopted legendary, extremely rare, undisclosed strains. The developers are also involved. It's disgusting."
The MekaVerse collapse is more than just Fomo and weak hands capitulating. This is a real scam. Insiders had access to hidden metadata and were able to steal legendary and extremely rare mints from unsuspecting collectors. Even the developers were involved. It's bad.

– Mütze.eth (@beanimaxi) October 14, 2021
MOLOTOV's tweets suggest that the developer was trading inside information, and that's not the only allegation against the project. In another thread, Twitter user Otto Suwen quote where a single wallet owner received multiple rare MekaVerse NFTs from unpublished purchases, likely due to leaked metadata information. He added:
"There have been many suspicious purchases since the mint. Now we know why. "
In other words, metadata can leak in the time between the imprint and the publication of the image a few days later. These disclosures were used to purchase a number of MekaVerse NFTs – which could become much more valuable after their announcement.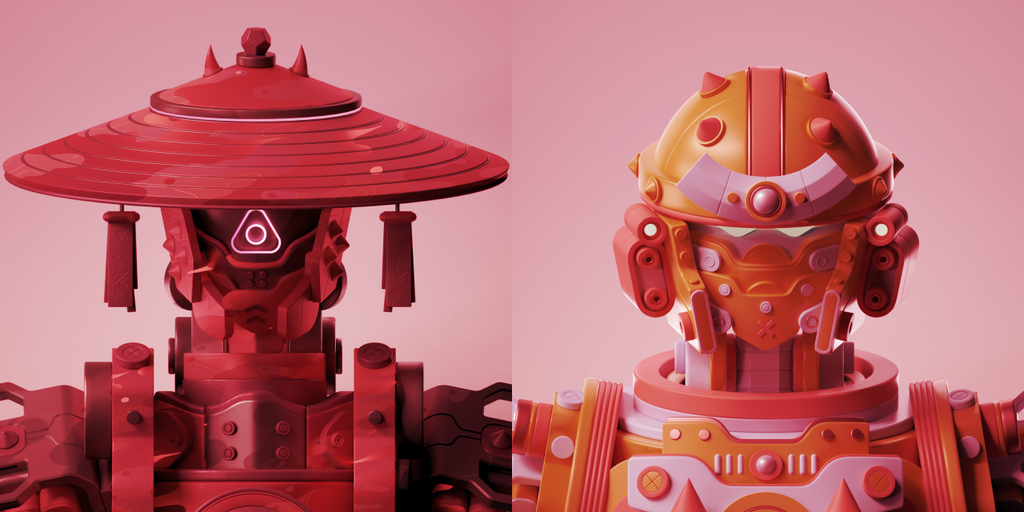 MekaVerse's answer team
On Thursday, co-founders Matt Braccini and Mattey addressed the allegations in an announcement posted on their Discord public accounts. According to the team, the publishing process includes a custom Python script to aid in randomization, as well as a seed system to recreate the order if necessary. They also use a private server that is not on the blockchain to complete the randomization process.
Developer Wyb0 explain:
"Some of you may have seen tweets about how the NFT MekaVerse was spread. Let me explain what happened on this thread.
It allows us to safely randomize things on our side. This is only done to avoid security problems and for reasons of clarity and control.
To avoid any risk of leaks or fraud, the team kept it secret until the last moment of the announcement date. We ran a random distribution right before the reveal to make sure nothing was leaked and that everything was distributed clearly, fairly, and randomly. "
In the same announcement, the founders of MekaVerse revealed their plans to bring owners more free NFTs for airdrop, including "Meka-Sword," used in a fighting game, as well as its companion. The operator is the robot "Meka-Bot". . It is similar to the approach taken by the Bored Ape Yacht Club, which has increased the NFT for owners in recent months.
Meanwhile, Wyb0 also addressed his alleged fraudulent purchase, saying it happened before the creators of MekaVerse sent "the final metadata and images" to Miinded. However, due to controversy, this NFT is being auctioned for charity.
Analyst Alex Krüger also commented on the collection:
"MekaVerse had sales of $ 8 million from these unique pieces. It's unique. "
Mekaverse generated $ 8 million in revenue from a rigged sale of these unique pieces. So unique. pic.twitter.com/effmjNA1up

– Alex Krüger (@krugermacro) October 14, 2021
Amid the above allegations, the reserve price – or the cheapest NFT available for MekaVerse – has plummeted in recent days. As mentioned earlier, MekaVerse NFTs were trading for over 7 ETHs prior to release, while the average price on OpenSea has been below 2 ETH so far. Even so, according to Cointelegraph, the collection has so far generated more than $ 130 million in secondary trading volume. CryptoSlam.
Along with fraud allegations and other launch timing complaints, some buyers criticize the randomness of the MekaVerse robot image, which is inspired by Japanese anime classics like "Mobile" Suit Gundam. In some cases, the difference between Ethereum-based NFT images is just a slight color change of small details like in Alex Krüger's tweet.
Join Bitcoin Magazine Telegram to keep track of news and comment on this article: https://t.me/coincunews
Minh Anh
After decrypting
Follow the Youtube Channel | Subscribe to telegram channel | Follow the Facebook page