From Bitcoin's bullish catalyst to Vechain voting for a PoA 2.0 upgrade, here's some news from the crypto space.
Bitcoin news
CNBC analyst Brian Kelly identifies two macro-catalysts propelling Bitcoin (BTC) to its highest level since the May crash.
In a new episode of Fast Money, Kelly to say Issues primarily affecting traditional assets like stocks and bonds are now affecting the price of Bitcoin as the cryptocurrency is increasingly used as a hedge against inflation.
"There are a few twists here. This is what is going on. Over the past year, people have been talking about how Bitcoin became a macro asset, so it's starting to react to things like debt ceilings and higher inflation, and if you look at the correlation between Bitcoin and oil, it's currently up a 30. active -day rotation basis, so I think institutions have started using it as an inflation hedge. "
Kelly also said optimism about the SEC's upcoming decision on Bitcoin ETFs is also driving Bitcoin's recent rally.
"Another reason is that I think the decision on a futures-based ETF is planned for mid-October, October 18th, and there is a lot of speculation about the approval of the fund at this point. Both factors became the driving force behind BTC. "
Bitcoin miners stop selling
On-chain data shows Bitcoin miners are ceasing to sell BTC despite the recent rally in which BTC topped $ 57,000. This is shown by the miner reserves – an indicator of how much Bitcoin miners hold in their wallets – which continue to trend sideways.
Source: CryptoQuant
As the graph above shows, the value of the indicator has been unchanged recently, although the Bitcoin price has risen sharply.
In general, such a move means that the miners are neutral or optimistic about the cryptocurrency. Many people are sold out but are immediately absorbed by others. That is why the reserves are so balanced at the moment.
A closer look at the chart shows that the index also moved sideways during the bull run that brought BTC to its current ATH.
ETH news
Take a look at Mike McGlone, ETH Lead Materials Strategist, Bloomberg Intelligence called The EIP-1559 update, which is putting pressure on the ETH offering, improves the price outlook for the second largest cryptocurrency by market capitalization.
"After the extreme movements in May, ETH is like a bull market that is consolidating and falling. Demand and acceptance are increasing, but our diagram shows a notable difference from a year ago – a reduced supply. "
McGlone says the path of least resistance is up as ETH holds its 20-week moving average near the $ 2,000 mark.
"The ETH minimum price is just under $ 2,000 from May to July and is expected to reach $ 3,000 in the fourth quarter, which is continuing to decline. It could still be the early days of ETH pricing. "
Ethereum's MVRV warns of risks
In a new report, Santiment says Ethereum's MVRV is putting ETH at risk. MVRV compares the total market capitalization of an asset to its actual value and can be used to determine market highs and lows.
The company says Ethereum's MVRV is floating in a high risk area.
"Ethereum's 30-day short-term MVRV appears to be close to a very tough level of around 10%, but there is still room for a rally to around 25%. In the meantime, the MVRV 365d is already in the super-high, super-valued and very risky area in the long term. "
Source: Santiment
USDT news
Whale Alert reports that there have been three transactions in the past 24 hours with an incredible amount of USDT.
In particular, Anonymous Wale and Tether Treasury made three transactions of 666,820,516, 249.99,999, and 667,816,661 USDT. The total amount of stablecoins transferred is nearly 1.6 billion USDT.
The first and third transactions were made with Tron-USDT from the same address – TV6MuMXfmLbBqPZvBHdwFsDnQeVfnmiuSi.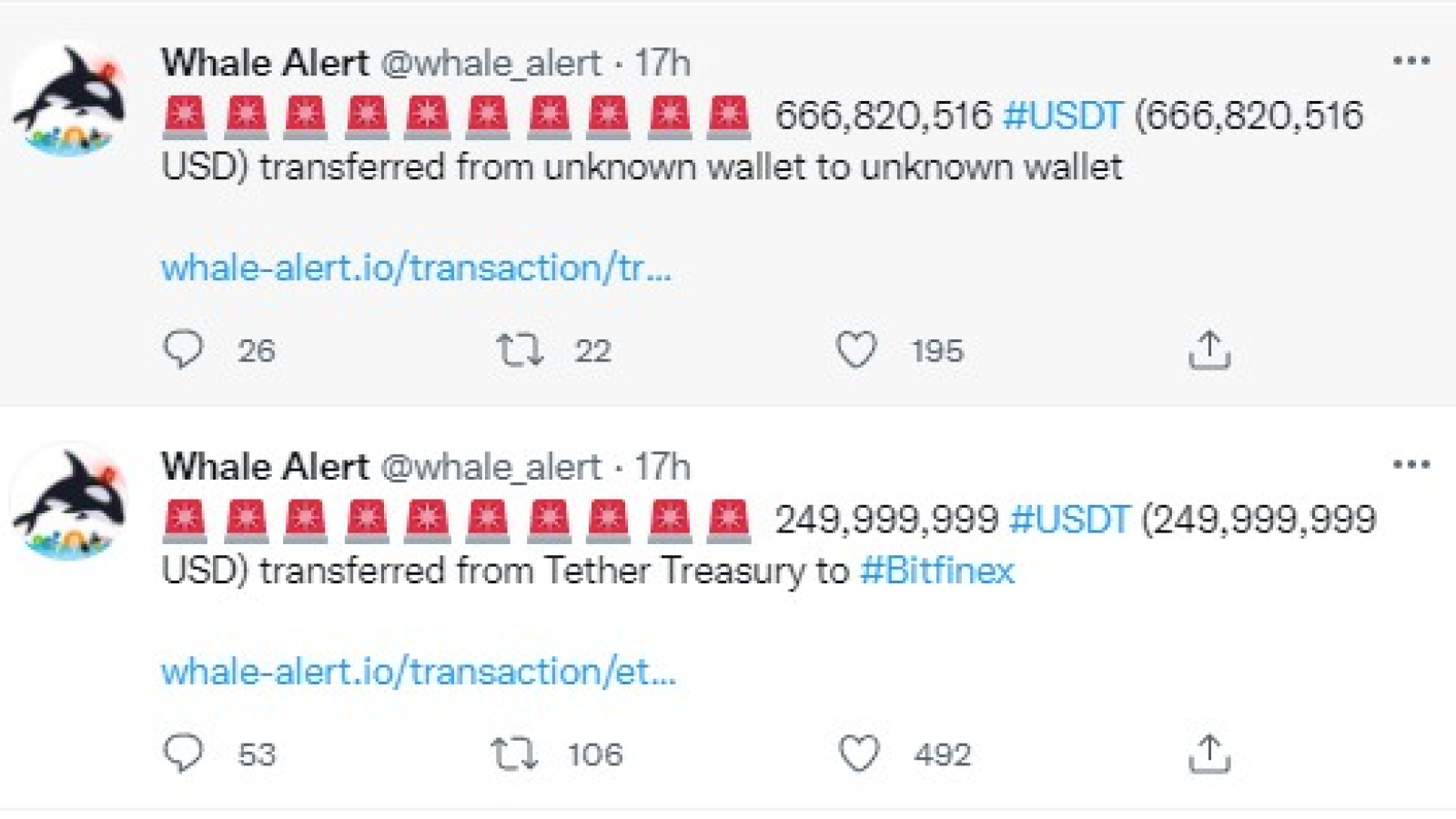 Source: Whale Alert
Tether Treasury has transferred 250 million stablecoins to Bitfinex with ETH-USDT. Tether and Bitfinex share the same parent company, so Bitfinex usually receives USDT from Tether when it needs more liquidity to trade Bitcoin and other cryptocurrencies.
After the Tether transfer, Bitfinex transferred 250,000,000 USDT to an unknown wallet address.
250,000,000 #USDT ($ 250,000,000) transferred from #Bitfinex in unknown wallethttps://t.co/vnafY4Ao6z

– Whale alert (@whale_alert) October 11, 2021
Ripple News
Blockchain company Ripple has announced a partnership with Lincoln-based financial services company Nelnet.
As part of the transaction, they will collectively invest $ 44 million in the company's renewable energy business to fund US solar projects.
Ken Weber, Ripple's Head of Social Impact, stated that reducing the industry's carbon footprint should be a top priority. Projects funded by Ripple are set to offset more than 1.5 million tons of biometric CO2 greenhouse gas emissions.
Ripple is one of the most climate-conscious companies in the world. At the beginning of April, they became part of the Crypto Climate Compact together with Consensys and CoinShares.
news
DeHorizon is the next generation of Blockchain Game Metaverse, making it possible to explore the world as a whole, including developing, promoting and distributing blockchain-based games to make DeHorizon the Metaverse Game Ecosystem. DeVerse, published by DeHorizon, is an MMO / RPG game based on Binance Smart Chain.
DeHorizon has call for capital successful $ 8.5 million in a pre-A round led by leading investment funds such as: Sfermion, Dragonfly, YGG, Infinity Venture Capital, Everest Venture Group, Bitscale, Bybit …
news THORSwap
The cross-chain decentralized exchange (DEX) THORSwap is about to make a comeback after the THORChain network collapsed due to massive mining operations just three months after its start.
The network provided by Cosmos aims to support decentralized transactions that are carried out on various blockchain networks such as Bitcoin and Ethereum. follow report 12, the THORSwap team announced that they had restored functionality to four of the five supported networks prior to the shutdown in July.
Accordingly, THORSwap has resumed swap functionality on the Bitcoin, Bitcoin Cash, Litecoin and Binance Smart Chain networks, adding that the team is currently in the process of reestablishing support for Ethereum.
news
The VeChain Foundation has announced the start of a voting process that will enable the community to decide whether or not to undertake a major update of their network: Proof-of-Authority (PoA) 2.0.
This upgrade could usher in a new wave of "mass adoption" of blockchain, removing the tradeoffs between the Nakamoto Consensus consensus mechanism and the Byzantine Fault Tolerance (BFT) implemented on cryptocurrencies like Bitcoin.
If the upgrade is approved, the VeChainThor blockchain can benefit from high throughput capabilities. In addition, it will bring guaranteed data integrity to the network and attract more businesses and high volume use cases without compromising the security of the network.
Source: VeChain Foundation
News MetaWars
MetaWars has notification via IDO token WARS on Polylauncher, GameFi and RedKite. Details on the whitelist will be announced shortly.
MetaWars is a multiplayer strategy game with a huge universe powered by a blockchain-based digital economy. Users can fight, trade, and earn robots, ships, and terrain powered by in-game items. NFT.WARS becomes the anchor of the game universe.
Coinbase news
Ark Invest, the New York-based investment firm led by Cathie Wood, has reduced its exposure to Coinbase, according to the company's latest announcement.
On October 11, the ARK Innovation ETF (ARKK) sold 98,427 COIN shares, the first sale since the company's shares traded on the Nasdaq on April 14.
Coinbase remains ARKK's fourth largest holding, representing 5.62% of the total portfolio. Tesla remains in first place (9.85%).
COIN is still 40% below its all-time high of $ 429. It managed to bounce back from recent lows caused by Bitcoin's rise to multi-month highs of $ 57,866.
Ocean Log News
The Ocean Protocol Foundation announced that 180 million OCEAN, valued at $ 140 million, are earmarked for grants in OceanDAO.
OceanDAO is a funding DAO where anyone can propose a project and the ocean community decides which projects are funded. Funding goals are projects in the Web3 data economy: Applications with ocean from data marketplaces to data binding, new reach.
Grants are valued at up to $ 50,000 OCEAN, with monthly recurring funding rounds. Teams that continue to distribute can receive a monthly grant. Anyone can apply for sponsorship at OceanDAO and new teams receive a special payout so they don't have to compete with existing teams.
Join Bitcoin Magazine Telegram to keep track of news and comment on this article: https://t.me/coincunews
Annie
Bitcoin magazine
Follow the Youtube Channel | Subscribe to telegram channel | Follow the Facebook page