According to a Harvard study, every $1 of cryptocurrency value created is responsible for $0.66 in health and climate damages. If this issue continues, the DeFi community will fail to address the sustainability issues.
Brokoli network aims to provide a solution for it. Let's talk about it.
Project Concept

–

What is Brokoli Network?
Simply put, Brokoli aims itself as the optimal sustainability layer of multi-chain DeFi. It merges DeFi and GameFi, incentivizing users to make, own, and trade their positive impact. The project consists of three parts interconnected to one another:
Core protocol:
Generally, it is the environmentally friendly gateway into the most popular DEXs and dApps.
API:
Any blockchain platform (centralized or decentralized) can implement the API so users can opt-in to a small climate fee that offsets their transaction's footprint.
Digital Forest / Impact Credits:
Users receive NFTs based on trees they funded. Digital NFT forests will be tradable as Brokoli Impact Credits. These are corporate social responsibility standards pegged to real forests and purchased by corporate partners.
Outstanding features/Technologies
What is unique selling point?
Brokoli is the world's first climate-positive DEX with dApps support
Through Brokoli's DEX, users can enable carbon offsets as a part of every trade. All of this in a seamless manner without disrupting the user experience. The DEX builds upon the capital-efficient model of trading created by Uniswap v3. Here, slippage fees are used for climate positive action. This includes renewable energy project finance, planting trees, waste collection, and recycling.
Furthermore, They leverage the existing technical infrastructure, becoming a green gateway to other DEXs. In this case, the liquidity provider is in control of the price ranges in which their funds are used. Users can choose the fee range which is between 0.05% to 10% of the transaction to dedicate for a climate positive change.
If the fee for the transaction isn't used to offset the price moments, then the fee is used in offsetting carbon footprint in a decentralized vote. Therefore, each trade can have a climate fee attached to it seamlessly without interrupting the liquidity providers' experience.
Play-to-Earn NFTs for Planting Trees
Brokoli Network has also incorporated elements of Play-to-Earn through issues of digital trees as NFTs. Through this, users can own their impact. Digital Forests also function as tradable assets. This means that users can buy & sell impact peer-to-peer. They can also buy and sell these digital assets to third parties (companies, charities, NGOs, influencers).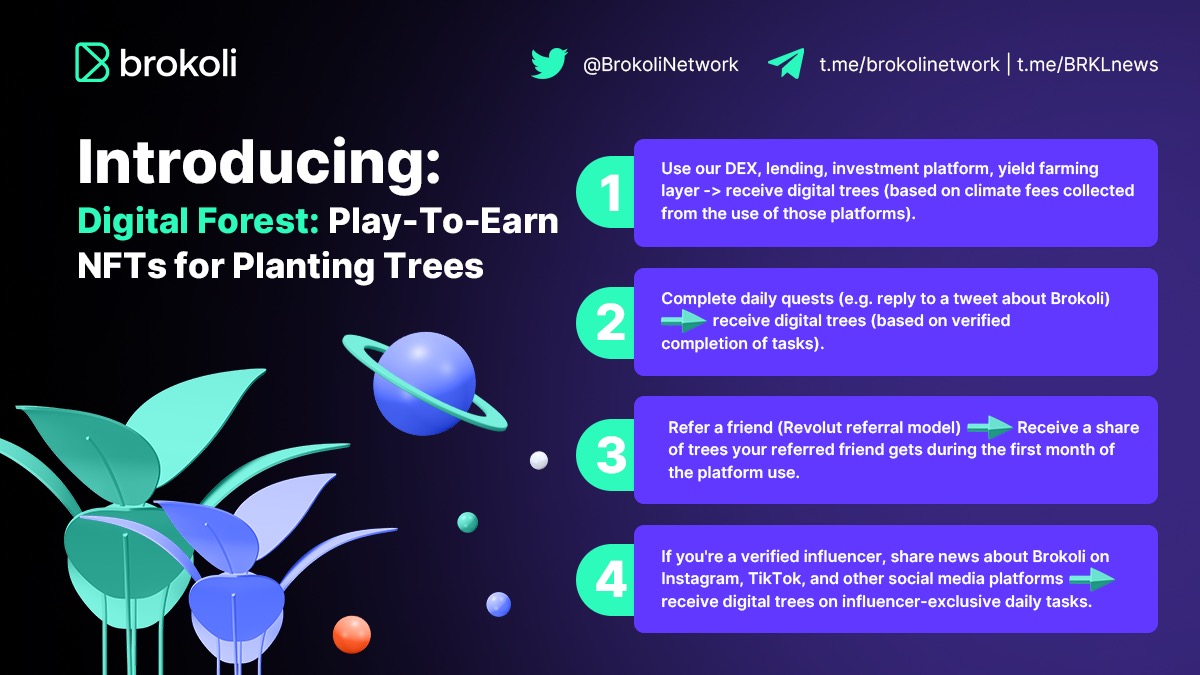 Front-end dApps integration and API
Brokoli will build personalized embedded solutions that enable climate action in every DeFi transaction. In practice, any DeFi / blockchain platform will be able to implement Brokoli's integration into their website. The integration will automatically calculate the carbon footprint based on the transaction and offer to offset your carbon footprint. With one 1-click, a user on any digital asset marketplace, exchange, or wallet will be able to make their transfer climate positive.
Featured products:
RoadMap
Technical Data
A decentralized autonomous organization (DAO) will govern the Brokoli Network with the $BRKL token. Through this, token holders can cast their vote, deciding on the choice of renewable energy projects, e-waste collection, and recycling programs. Alongside this, Brokoli will also introduce a new type of governance called instant governance.
Token Sale: September (No Exact Dates)
Ticker: BRKL
Token standard: ERC-20
Token type: Governance
Contract: Updating
Blockchain: Ethereum
Total supply: 125.000.000
Initial circulating supply: 14,048,437
Initial Market Cap: 899.100 USD
Token Allocation
Token Sale
Tokens for Sale: 781.250 BRKL
Tokens Sold: N/A
ICO Price: 0.064 USD
Where to buy: Gate.io
Soft Cap: 50.000 USD
% of Total Supply: 0.625%
Fundraising Goal: 50.000 USD
Accept: DAO
Personal Cap: 10 DAO
Access: Public
Token release schedule
Private Round: 20% issued at TGE, then locked for 3 months; 5.33% released monthly for 15 months.
Liquidity: 29% issued at TGE, 6% released monthly.
Ecosystem: 5% released monthly.
Public Sale: 20% is issued at TGE, then held for the first 3 months; 5.33% released monthly for 15 months.
Partners & Advisors: Locks in for 1 year, then 20% is unlocked quarterly.
Development: 1% released at TGE; 3% is released quarterly in the first year; 20% is released quarterly in the second year.
Math operations: Key for 1 year; Then 20% is unlocked quarterly
Token Use Case
How to own the token?
Buy BRKL at IEO: Sep 28, 2021 – Sep 29, 2021
Exchange: Updating
Markets and Community
Market Need
In particular, 87% of Gen Zers are concerned about the environment, including 90% of Gen Zers who think companies must lead the way in the planet's sustainability journey. Similarly, more than 70% of millennials care about global warming and other climate issues. 42% of millennials are planning to enter the crypto ecosystem, which means that the space will be forced to find long-term sustainability solutions like Brokoli.
Market Size
The market size of dApps is expected to be $368 billion (annual growth of 56.1%) in the next 5 years.
By the same token, Brokoli expect this market to reach $1+ billion in the next 5 years with green charities at the forefront
Competition
From my point of view, Brokoli entered the market as the first climate-positive DEX and sustainability enabler on Layer 2 platforms. Therefore, there is no direct competition and Brokoli has the first-mover's advantage.
Indirect Competition: Greeneum, Impact Scope, Chia Network
Backers
Team /Founder
Investor & Partners
Final Thoughts
All things considered, Brokoli network can tackle the underlying sustainability issues. With its all-in-one DEX with dApps support, users can support a positive climate change through their day-to-day transactions. Do you think with its radically new governance system, can the community participate, benefit and vote for specific protocol settings easily? Comment below what you think.
Find more information about Brokoli Network:
Website: https://brokoli.network/
Telegram: https://t.me/brokolinetwork
Twitter: https://twitter.com/BrokoliNetwork
Elise
Coincu research